I became motivated to investigate different feeding systems after I noticed how horses kept in any kind of enclosure other than pasture, became fixated on food! Even though they received the right amount of hay and/or feed for their body weight and activity level, they were psychologically "starving".
Of course, since a horse's stomach produces acid (for digestion) continually, it makes even more sense why a horse fed even 4 times per day would become distressed about food.
When I had my horses on pasture for 10 years in Alberta, they never showed any anxiety about going out for rides, or impatience to get back home, or any tension at feeding times. So I think the contrast with horses kept in stalls, paddocks, or dirt enclosures was really striking for me and I personally do not enjoy hanging out with a horse who is always thinking about food, or trying desperately to get a mouthful of grass.
On the flip side, if you give a horse in a stall or paddock 24/7 access to unlimited hay, they can overeat and end up with laminitis, colic, founder, etc. The solution to this dilemma is slow feeders!
Slow feeders allow the horse access to hay and the ability to "graze" for most of the day, yet only consume a healthy amount of hay.
From what I've seen and my discussions with others who have experimented with various types of slow feeders, here are the key points to keep in mind:
1. On a metal or plastic feeder, the grid holes need to be the right size. 2″ – 3″ square or round seems to be the optimal size hole. Some slow feeders have rows of slats (not a grid) so unless you have a horse that needs a lot of hay, the slat design will allow them to consume too much, as it's much easier to pull out large strips of hay. However, as with all slow feeders, you need to keep an eye on your horse's teeth and gums, or this can happen: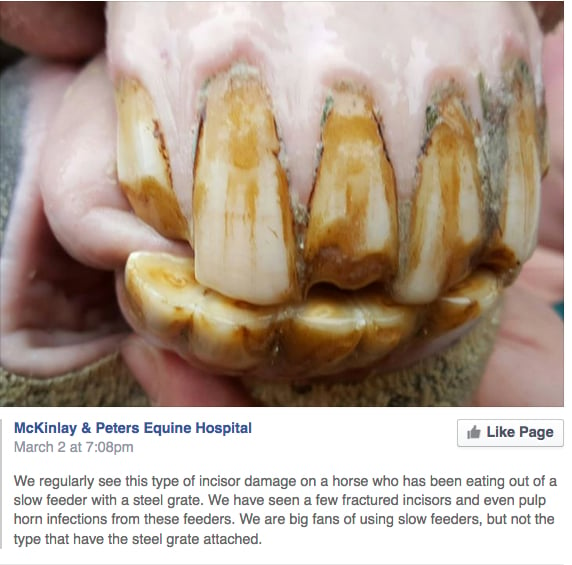 I keep an eye on my horse's teeth, but I have had 7 different horses eating from my metal grate slow feeders (2″ x 2″ openings) for over 2 years and all teeth are fine.
2. You must have a trapping method that prevents the horse from grabbing the grid and tossing it out of the feeder. Not every horse will figure this out, but some do.
3. Some people prefer slow feeder nets (hay nets), but you also need to check your horses gums to ensure they aren't getting damaged by pushing or rubbing against the nylon. Here's what might happen (but many hay net users have never experienced this) and again, none of the 7 horses in my place have any problems with using hay nets: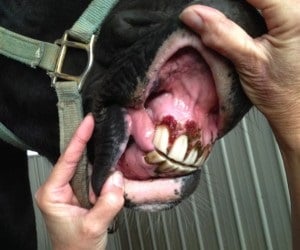 Many have found 1.5″ holes to be the best size for a hay net slow feeder – especially if your horse is new to hay nets, or you have a larger horse. For smaller ponies, or those very skilled at extracting hay, a 1″ net might be better. Nag Bags and Eco Nets are popular brands for hay nets. I prefer Handy Hay Nets for ease and durability.
If your horse is shod, then your hay net must be in a protective feeder (poly, metal or wood) as horses will paw the net and may get the heels of their shoes caught.
If you're considering using hay nets, then check out this fabulous page of ideas for how to load, hang, clip and position your hay net.
4. Your slow feeder should be as close to the ground as you can get it. This simulates the natural grazing position that is best for the neck and topline (spine) of the horse and also helps prevent hay dust inhalation.
5. Set up your slow feeders the same way you set up your hay piles – with one extra. This prevents stress and anxiety from the dominant horse(s) moving the others off the feeder. So if you have 4 horses, you might get a 4-horse slow feeder + a 1-horse slow feeder. Or two, 2-horse slow feeders + a 1-horse slow feeder. Think about your herd dynamic before you select the size and number of feeders. For example, if you have a super pushy horse who likes to eat alone, then he might take over the 4-horse feeder for himself, leaving your other 3 to share the 1-horse feeder. So then you would need a different configuration to get it to work for your herd. Also be prepared to do what you think will work and then watch them for a week or so; make adjustments as needed.
6. Make sure your feeder is made of non-toxic materials and untreated wood. Remember that your horse will be inhaling for hours in the feeder and touching it with his lips (mucous membranes are highly absorptive). Of course, also avoid sharp or protruding parts.
Alright, so here's my overview of sturdy slow feeder options, along with some pros and cons…
DRURY HEALTHY HORSE FEEDER
There are three models of the Drury Healthy Horse Feeder available. They have grid systems for your pasture, or your horse's stall, and a hay net system for a round bale.
What I like about this feeder is that it is low maintenance. What I don't like about it is that the horse will be twisting his head/neck to the side to grab each mouthful – this is an unnatural position and movement to be doing all day, every day, and perhaps your horse will need ongoing chiropractic adjustments. However, depending on how you position your hanging hay net, your horse may be in a similar position anyway.
HOMEMADE SLOW FEEDER – Wood & Plastic Grate
Now if you live somewhere extremely cold, then you may not want to use a metal grate slow feeder as the horses' lips or tongue may get stuck on the metal! So this resident of the Yukon in Northern Canada came up with the ingenious idea of using plastic puck board.
However, as you can see from the video, this box is too small for 2 horses and likely the dominant horse will be well fed and the other one… not so much.
I like to follow the same rule for slow feeders as with hay piles. I have one extra. That way the dominant horse can move the others around as much as he/she wants and there is always a place for all to eat. This really reduces stress/anxiety around feeding – which is not good for any being!
HOMEMADE SLOW FEEDER – Wood & Metal Grate
This is a great video that shows all the details, not only of construction, but of how the horses use the feeders and how it changes their psychology. So that even when your horses are eating the same amount of hay per day, you can see how a feeding system that simulates grazing can transform your horse from 'psychologically starving' to satiated. I'm not crazy about his string tie-down system though. I don't think that will hold up well over time.
THE SLOW GRAZER
This Slow Grazer slow feeder has everything I was looking for – really easy to load, no protruding parts, perfect size grid, and a sturdy lid to prevent a horse from lifting the grid out and tossing it away. The underside (that contacts the ground) is pressure treated to prevent the wood from rotting – but the rest of it is not. This is a really good thing as I don't want my horse ingesting chromium and copper from pressure treated wood. And (at the time of writing) the price is excellent – only $275 for a 4'x4'x28″ feeder. They also sell the plans if you have the skills and desire to build your own. Joe (the owner) told me the feeders can sit out in the rain and are good for 8-10 years. Then you may need to replace the gussets in the corners. I ordered two of the 4'x4′ feeders for the three horses in my pasture. This will not only suffice for right now, but will likely still work if I happen to add another horse or two to my pasture.
Here's the only possible downside to this kind of slow feeder (IF your horse is tall enough to get a front leg in there): This is what my Belgian mare does to the grates when she gets mad that she can't just gobble the hay: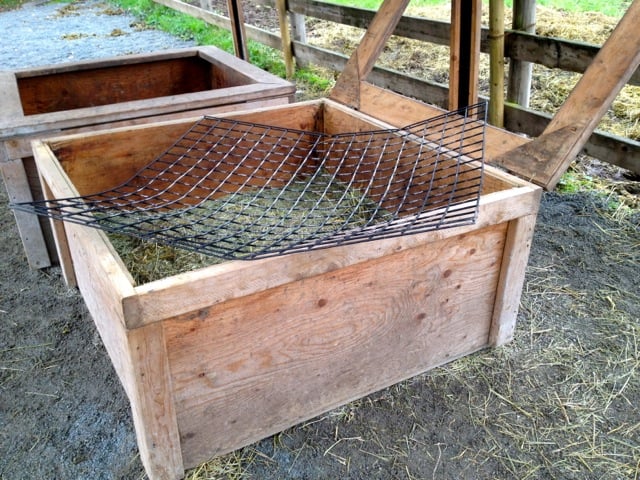 However, I have had 8 different horses eating from these slow feeders and she is the only one who stomps on the grates like this!
So, since she joined the herd, I have had to switch to a mix of this size grate (2×2-inches) and a 4×4-inch grate, and a 2″ hay net, so my Belgian has a few choices!
THE PORTA-GRAZER
A reader found this slow feeding solution and asked for my opinion. I thought it looked good enough to give it a try, so I bought the XL feeder from Porta-Grazer to test with my herd of five. Here's a short video showing you how it's constructed and how it works:
After using it for three weeks, here's my review of the pros and cons of this feeder. First of all, the lid/locking mechanism looks like a good one. It is VERY sturdy and nicely heavy. I roped it to a large beam in my barn using a chain and there has been no damage whatsoever.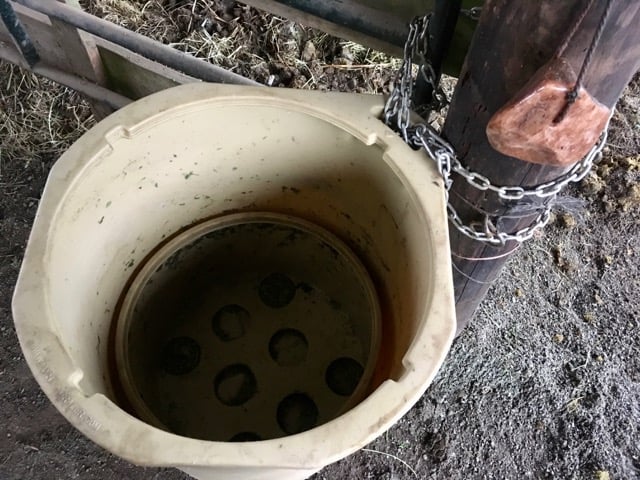 Since I have 4 young, playful horses in my herd, I would not leave this feeder loose (as they show in some of their videos) as I'm pretty sure they would crack it.
Here's my feedback on it's function: I packed it with large, stalky hay (alfalfa) and it worked great. When I packed it with soft strands of hay (orchard grass) it didn't work so well – they couldn't get it out and ended up mashing/crushing it into little bits that were then impossible to get out. I also purchased the unit with Draft-size openings (the largest holes available).
I was trying to figure out why this could be – since the orchard grass works best in both my metal grate slow feeders and hay nets. Then I realized that due to the shape (about 2 foot wide barrel) the horse cannot really get their head/mouth sideways. So they can't use a lot of angles to pull the hay out. They can mostly only eat straight on and tilted a little bit to the side.
If you watch the video above, you'll see that the the horse is eating a stiff, stalky rye grass and as you watch his mouth action you'll see what I mean about how they can't angle too much to the side to get to the hay.
However, as the weeks wore on, they gradually learned how to extract the orchard grass  – my system is to use low-sugar orchard grass in my slow feeders and give a small amount of alfalfa loose. However, within a month of them figuring out how to pull out the hay, they also figured out how to get the lid off! And not just once in a while, but every single time I filled it.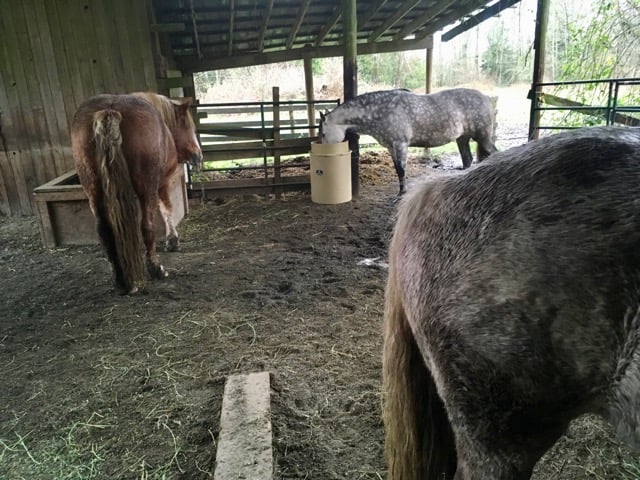 The other issue I noticed is that once the horse starts to eat down the hay, their head is disappearing into a hole with no visibility whatsoever. This is fine for the dominant horse or two, but others further down the pecking order will only eat from it when the more dominant ones are far away – because they can't move to get out of the way if they can't see the boss horse coming!
If you had a horse in a stall, or a couple of very docile horses, it would probably work just fine. I don't know whether Bermuda or Teff would work well in this feeder either.
Unfortunately, due to them being able to unlock the lid every single time, I have had to retire the Porta-Grazer and it now sits in my tack room. I'm not sure which horse is removing the lid – I do have one horse who can undo the chains looped around my gates, so perhaps he's the culprit. Regardless, once the lid is off, they just pull out all the hay and stomp it into the ground – $15/bale and a huge mess to clean up.
On the plus side it is much easier to pack/load than a hay net!
THE HAY PILLOW
The Hay Pillow is a type of hay net that is designed to be placed directly on the ground. It has a solid back and sides to prevent the hay from getting dirty and dusty.
All of my horses like this Hay Pillow – except for my Belgian who dislikes all hay nets – and if you live in a dry (or snowy) climate, this solution would work well. It wouldn't work well for a muddy, rainforest climate like mine though – unless I wanted to clean it regularly!
The other point to keep in mind is that the Standard size only holds 8 pounds of hay, so you would need to refill several times a day. Again, this doesn't work for me as my 4'x4′ Slow Grazers hold 200 lbs of hay – so I'm only filling feeders once every 3 days, which I prefer.
However, I might want to use a Hay Pillow if I ever wanted to slow down my horses consumption of their daily alfalfa. Currently, I feed alfalfa loose – but the Hay Pillow would be just the right amount for each horse. So I will definitely keep it in mind. Here's a great article on keeping your horses mentally and physically comfortable when eating.
The huge benefit to this slow feeder (vs. a regular hay net) is that it doesn't need to be anchored to anything and the horse's head can be down very close to the ground. Having it move around will likely reduce frustration from impatient/aggressive eaters. Here's my review of the Hay Pillow:
THE BEST HAY TO FEED
Well, now that you have your slow feeder in place, you need to make sure you fill it with the right kind of hay to keep your horse healthy and at a good weight!
And remember to check front teeth and gum line every month or two, ongoing, to ensure your horse is not damaging their mouth on your slow feeders.
Slow Feeder Design Comparison